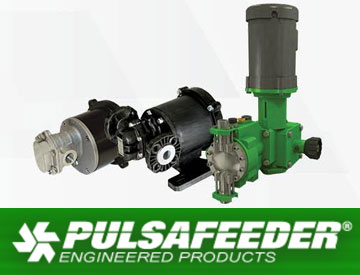 Pulsafeeder - Engineered products
Pulsafeeder Engineered products are made to according to specific customer requirements.
Products include:
- hydraulic dosing pumps,
- external gear pumps,
- custom systems according to customer requirements.
For brands such as Pulse, Pulsar, ECO, Eclipse, Isochem and PeriFlo.
 
Most commonly used chemicals:
- sodium silicate (for the production of cellulose and paper),
- ethylene glycols (for the manufacture of plastics, textiles, latex paints, adhesives),
- ammonium nitrate, urea, phosphate and potassium (fertilizers),
- methanol (production of MTBE for oil refining and solvent production),
- hydrochloric acid (hundreds of uses including PVC and metal refining),
- sulfuric acid (pH reduction),
- sodium hydroxide (increase in pH),
- sodium hypochlorite, calcium hypochlorite, hydrogen peroxide, bromine (in cooling towers),
- copper sulphate, ammonium sulphate,
- sodium aluminate, ferric chloride.
Technical informations
For download files you need to login
Login